«Back
West Point Thoroughbreds June Newsletter
July 02, 2013 · By Terry Finley · Share
My wife Debbie and I are settled into our office in Saratoga Springs after moving up here full time last month.
This is one of my favorite times of the year. Everyone is gearing up for the summer meets and the 2-year-olds are hitting the racetrack. True Blue Nation gave us a thrill last week when she became our first juvenile of 2013. I hope you had a few dollars on her at 17-1.
One of my favorite moments of the year is when Tom Durkin exclaims, "And they're off at Saratoga" on opening day. It's hard to believe that day will be here in less than three weeks.
It's looking like we'll have a quite a bit of stakes action at the summer meets. True Blue Nation is pointing for the Schulyerville opening day at the Spa, and Awesome Vision is heading to the Evan Shipman for NY-breds a few days later. Rock Me Baby is all set for the California Dreamin' Handicap opening weekend at Del Mar. Freedom Child came out of the Belmont Stakes no worse for the wear and will be pointed to one of the major races for 3-year-olds this summer. Twilight Eclipse will also see stakes action -- he's ready for the Man O'War at Belmont.
We've placed a number of our retired runners in good homes the past few weeks. Racehorse retirement is an issue that's constantly on our minds. We'll continue to do everything we can to make sure the horses who carry the black and gold have a good life after their racing careers are over.
Until next month,
Terry Finley
President
West Point Thoroughbreds
[email protected]

---
First 2-Year-Old of 2013 Wins by 5 Lenths!
Our first 2-year-old starter of the year, True Blue Nation, broke her maiden at first asking by over five lengths on June 21 at Belmont Park. Off at 17-1 in the field of five fillies, our daughter of Bluegrass Cat took the lead and never looked back under Jose Lezcano.
Trained by Tom Albertrani, True Blue Nation is now headed to the $150,000 Schuylerville Stakes (G3) on opening day, Friday, July 19 at Saratoga.
True Blue Nation was purchased by West Point Thoroughbreds & St. Elias Stable at the 2012 Fasig-Tipton July Yearling Sale. Click on the image to watch the video.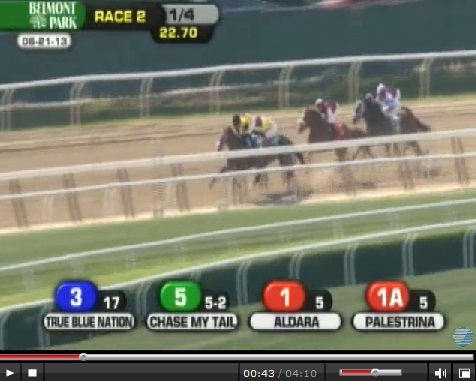 ---
What's In A Name?
There's a story behind every racehorse's name. We wanted to share with you the story behind our 2-year-old filly by High Cotton, Feels So Right.
Both High Cotton and Feels So Right are songs recorded by the popular American country band Alabama.
Feels So Right was released in May 1981 and became the band's fourth straight No. 1 single.
Feels So Right is preparing for a summer debut with trainer Tom Albertrani.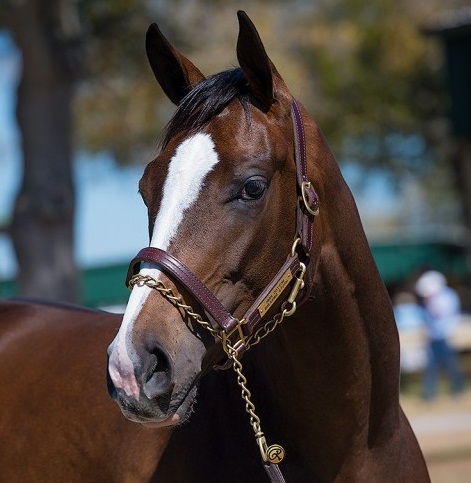 ---
---
Terry's Favorite Spots to Eat in Saratoga
Pennell's near the racetrack is an awesome spot for a hearty Italian meal. I really love their chicken parm.

Mama Mia's on Ballston Avenue is my favorite pizza place.

Winslow's in Wilton has turkey that's out of this world.

Hattie's is very well known for their fried chicken, but I recommended the jerk chicken, it's pretty darn good.
---
Two-Year-Old Spotlight: OBS June Fillies
We typically end our 2-year-old buying in May, but came across two awesome fillies at the OBS June Sale. Both are already with Tom Albertrani at Belmont Park preparing for summer debuts.
Take a look at the new Pollard's Vision filly
Take a look at the new Indian Charlie filly

---
Track Term: Clerk of Scales
The clerk of scales plays an important role in keeping the races running smoothly. Their main responsibility is weighing jockeys both before and after races. That's not their only job though. Click here to watch a video about the NYRA clerk of scales and their duties on raceday.
«Back