«Back
Get To Know Tom Albertrani
June 11, 2013 · By Erin Birkenhauer · Share
Tom Albertrani trains for West Point Thoroughbreds in New York and Florida. His well-rounded career includes a stint as a jockey, time spent as an assistant to Mark Casse and Hall of Fame trainer Bill Mott, and a period in Dubai as Godolphin Racing's top assistant to Saeed Bin Suroor.

Top horses he was involved with as an assistant included Theatrical and Cigar, Street Cry, Fantastic Light, and Daylami.

Albertrani returned to New York full time in 2003 and opened a public racing stable in 2005. In 2006, the regally bred-Bernardini brought him into the national spotlight, winning five consecutive stakes including the Preakness and Jockey Club Gold Cup. Albertrani has continued his success across the nation, and has trained graded stakes winners Freedom Child and Twilight Eclipse stakes winners King Congie and Belle of the Hall for the black and gold. Here, we get to know him a little better.

Q. What are your hobbies outside of racing?
A. I like to keep myself fit. I try to get over to the gym probably three times during the week. I squeeze that in and that's about it. You don't have a lot of time for hobbies in this business

Q. Favorite sports team?

A. I grew up as a Mets fan, so I still stay true to that

Q. Favorite Saratoga restaurant?
A. Villa Balsamo, it's a great Italian spot

Q. Typical wake-up time?
A. Usually 5:00 a.m. or right around there

Q. Do you ever go on vacation?
A. If I did, I can't remember the last one! (laughs)

On the racing side...

Q. How did you get involved with horses?
A. I was 13 living in Long Island and my uncle was a trainer. He got me exposed to sport, coming out on the weekends and during summer holidays during school to hotwalk horses and go to the races.

Q. How did you become a trainer?
A. First I was a jockey. I started when I was 18 and rode for a few years. Weight was catching up with me so I just started to get into galloping as an assistant trainer. I worked for Mark Casse in the early '80s and that led to eventually working for Bill Mott. After I was an assistant trainer for Saeed bin Suroor, I went out on my own in 2003.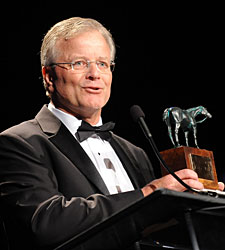 Q. Who had the greatest impact on your career?
A. In the beginning, it was guys like Angel Cordero Jr or Jorge Velasquez or even Steve Cauthen. Since i wanted to become a jockey I watched riders like that go through their careers with that polished way of riding. I looked up to them naturally because I was young and I wanted to be a good rider. Angel Cordero kind of inspired me as far as riding goes. Bill Mott definitely made an impact on my training style. I just think he's a fantastic horseman. When I started working for him I had a lot of background by then, over the years of riding races and galloping horses, but when I went to Bill he was such an amazing horseman, I learned even more. He polished me up a little.

Q. Tell us a little about your methods. You're not going to see many bullet works from Albertrani runners. Share your theories on training a racehorse.
A. I really just believe in keeping my horses healthy and sound. Sometimes my works might be a little slow, but in the long term, I think if you keep them healthy and sound if they're good enough it's going to come through. We spend a lot of time and do a lot of quicker gallops with them sometimes and don't always give them those bullet works. We just bring them along easily and I think by doing it that way, we put them in the position to develop to the best of their natural ability.

Q. How do you know when a 2-year-old is ready to make their first start? What signs do they give?
A. Normally you go through the process of getting them fit and just kind of pay attention to see how tired they're getting in their works. You watch them cool out and see how long it takes them to recover from works, you go by how fit they are, how quickly they learn around the starting gate, how quickly they break. Just when you think they're ready get a race in them doesn't always have to be their best race first time out. You get a little experience into them and want them to run well. Then you go from there.


Q. Give us a runthrough of a typical day on the racetrack for you.
A. I spend a lot of time on the phone. After the horses are done training, I usually make calls to owners, make entries, and book jockeys. We average about 50 horses; we keep the majority at Belmont and a little overflow at Saratoga, and we have the string at Palm Meadows in the winter. There's the vet and the blacksmith to see, and after I finish those things in the morning, I'm getting ready for the next day for training, getting the training book set up for the following day, perhaps going to the races to saddle a few and watch them run. If it's a dark day, maybe I'll get a little gym time in or something like that. But there's always more paperwork that comes along to handle on those days, too.

Q. Tell us about Bernardini.
A. He was a pretty special horse to have around the barn. I could see right from the beginning he was a special horse before he ran. A lot of times you have horses you really like but they don't turn out to be as good as you think they are, but he was special from the start and proved it over and over again.
Watch Bernardini win the 2006 Travers (G1):
Comments ·
Add a comment · Send Feedback
«Back