The West Point team joined together and took a crack at handicapping each of the Breeders' Cup 2012 races. Some races are handicapped in more detail than others, but we thought you'd enjoyed the insight from each member of our team. You can view our bios by clicking here.

The West Point team joined together and took a crack at handicapping each of the Breeders' Cup 2012 races. Some races are handicapped in more detail than others, but we thought you'd enjoyed the insight from each member of our team. You can view our bios by clicking here.

Friday Races:
Juvenile Sprint:
Dawn Lenert
With the defection of Beholder it's hard for me to pick against the inexperienced but visually impressive Bob Baffert charge Super Ninety Nine. The lightly raced colt posted a strong work over the weekend and as you all know, Baffert is a master at prepping and placing horses for a peak performance. There are several "pretenders" in the race and while they don't stand a chance on paper, they are still a presence in the contest and could be a factor in some race scenario. Remember these are babies and anything can happen
1) Super Ninety Nine (pictued) Inexperienced but appears to have extreme talent. Dueled and won debut at 7 furlongs. Will tip to Baffert to have him ready to deliver the goods in his second career start on the big stage.
2) Merit Man Improving each race and has demonstrated he can run right off the pace and attack.
3) Ceiling Kitty (GB) I'll take the foreigner who has seven races under her belt and 3 wins. Not worried about the surface change from turf to dirt. I expect she'll prompt a pace and hang around at the end for a slice.
Marathon:
Shannon Castagnola
Your guess is as good as mine. I was on the rail when Awesome Gem ran in this race at Churchill in 2010. I had enough time hyperventilate, pass out, come to, go to the second floor Clubhouse for a glass of water…and the race was only halfway over.
Horses in the U.S. just aren't bred for this type of distance. I'm going with a the European bred Fame And Glory (GB). Trained by possibly the best conditioner of all time, Aiden O'Brien, they didn't travel halfway around the world to run on a surface the horse is untested over for no reason. O'Brien must think he has a big shot.
2) Almudena (PER)
3) Juniper Pass
Juvenile Fillies Turf:
Lindsey Heumann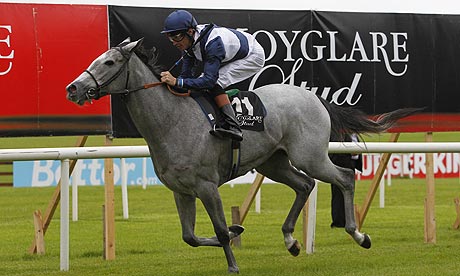 There is no real standout on paper and I think no longer allowing medications within 24 hours of the race may impact a few of the contenders. It will be interesting to see where the Europeans (who don't use Lasix) end up compared to the Americans. This makes me wonder, does this change really create a level playing field or does it put some at a disadvantage?
Top 3 Picks –

Sky Lantern and Waterway Run – both have run consistent and comparable low Ragozin numbers and continue to improve with each start.
Kitten's Point – everyone loves a Graham Motion horse on the grass. You'll get some value with this one.

Wise guy horse:

Tara From the Cape – has improved with every start, but has not won since early August. She could be due for a big effort.
Juvenile Fillies:
Tom Bellhouse
Musings from The Spa


I'm often accused of letting my loyalties and emotions cloud my handicapping. So, the irony of having to decipher these two races, Juvenile Fillies and the BC Turf, where I have huge sentimental favorites tugging at my heartstrings, is not lost on me.

In the Juvenile Fillies, take notice of Dreaming of Julia's dam, Dream Rush.

Dream Rush (pictured right) was quite possibly the most brilliant horse ever to don the Black & Gold WPT silks. Her performance in the G1 Darley Test still brings goosebumps to those of us who were in attendance.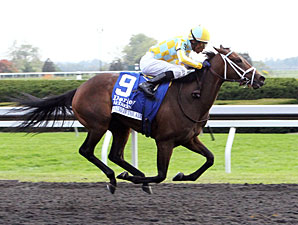 1. Spring in the Air
Filly coming off two monster races in Natalma & Alcibiades…Both her and stablemate (in juv filly turf) may be freaks.
2. Executiveprivilege
Done absolutely nothing wrong and may better rating. Concerned may be pace compromised.
3. Dreaming of Julia
AP Indy- Dream Rush…undefeated. Hope the sire helps Julia overcome momma's distance limitations.
4. Kauai Katie
Speedy filly, blew them away at the Spa w/ Rosie up. Not sure what she's beat yet, but would be my pick in Juvenile Sprint.
Filly & Mare Turf: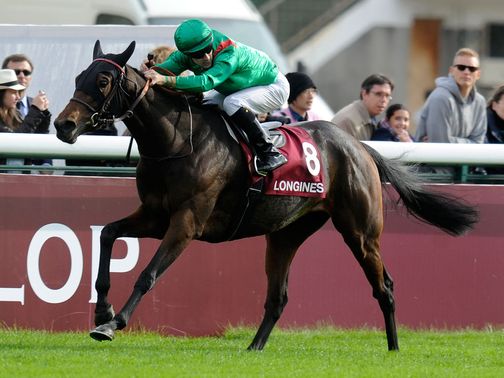 Dawn Lenert
1) Ridasiyna (pictured) Going with the French filly who, although only a 3-year-old, is four for five and keeps rising to each steadily progressive harder assignment. She'll have a four pound weight advantage against her older rivals and will easily handle the distance.
2) Nahrain Darley filly has money and wins to her resume, including a strong showing in the G1 Flower Bowl. Second in this Breeders' Cup race at Churchill last year. Love her race performance pattern and can produce strong back to back runs.
3) I'm a Dreamer Game mare is sneaky good. Won G1 Beverly D at Arlington and then performed well next out in the G1 Flower Bowl at Belmont- a race she didn't need to go all out and win. Think she's saving her best to peak in Cali.
Ladies' Classic:
Debbie Finley
1st: Love and Pride: Love the jock/trainer combination along with the fact that this filly has already won over this surface in the G1 Zenyatta. Her dam loved Santa Anita!
2nd: Questing: Irad knows this filly very well. All of us at WPT are rooting for Irad in his first Breeders' Cup.

3rd: My Miss Aurelia: Steve Asmussen has this filly primed for a good effort.
Love & Pride wins by two with Questing/My Miss Aurelia battling it with Questing getting second by a nose.
Saturday Races:
Juvenile Turf:

Jeff Lifson
Let me say this quickly without a ton of whining….you're silly to take my picks all that seriously because I haven't watched any of these horses train. I was so blessed to have the Breeders Cup' in my backyard last year and the year before, because I would get up early, rub the sleep from my 4 am eyes. and giddy up down to the Downs for training.
Simple stuff and my power alley when it comes to handicapping. I'm pretty worthless at sizing up a race on paper (ask any of my Partners who have heard me talk through one of our West Point outings). But put the equine athlete in front of me for a couple of weeks and I'll tell you if they're at the top of their game or not. I'm writing this from Kentucky, leaving just a few days before the races…so I'm hamstrung.

1. Know More
2. George Vancouver
3. Balance the Books
Filly & Mare Sprint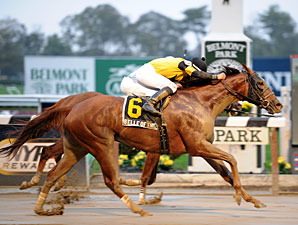 Clif Hickok
West Point Thoroughbreds' Belle of the Hall (pictured right) is entered, traveling from post #2, against a field of nine others.
"Belle" is entered with the intention of winning the race! She is training and running as well as ever (last race Beyer was a career top 95).
Her jockey, Irad Ortiz Jr has ridden her very well in her last three starts and her trainer, Tom
Albertrani, is behind her entry 100%, as are the Partners and WPT management.
We are in it to win it! Can she win, yes! Will she win, maybe! Here is my analysis and commentary:
The heavy favorite is Groupie Doll, a 4-year-old daughter of Bowman's Band. Morning line even odds, and deservedly so. She drew well and has won her last four races by a combined margin of over 20 lengths! Rajiv Maragh has ridden her five times in a row and she is working lights out! If she runs her race she is the winner. Simply too much on her resume to argue against her.
The early frontrunner should be Dust and Diamonds. With her natural speed, post position, and staying power I see her no place but in first taking the field through the first half mile in 43.4 or 44 seconds. With three furlongs left the fun begins!!


Teddy's Promise has a Grade 1 win at Santa Anita in the LaBrea and at seven furlongs!! That was 11 months ago exactly and she hasn't maintained that form since. By default, with her post she will try to keep up with Dust and Diamonds but could falter well before the top of the stretch.
Ditto for the close to the pace and mid pack group of Strike the Moon, Rumor, Turbulent Descent, Musical Romance, and Great Hot. All of them will be caught between the proverbial "rock and a hard place," between Dust and Diamonds up front and Groupie Doll watching the entire field and ready to pounce when asked. If any of them go early they burn out – if they wait OH OH there goes Groupie…
All this leaves the two deep closers; Belle of the Hall # 2 and Switch # 10. Belle will have found a way off the rail as she has speed both inside and outside of her. Her best hope is for a quicker than 44.3 first half mile with someone (anyone) running stride for stride with Dust and Diamonds. That scenario also works for Switch, but, her best surface may be synthetic. Belle also needs to change leads immediately when asked…
So, at the top of the stretch there is Dust and Diamonds maintaining her lead with GroupieDoll still about five lengths off and running five wide. Turbulent Descent and Musical Romance will make their best efforts to catch up, but Saturday will not be their day.
At the wire it is……
Groupie Doll (pictured right) by a length and a half, Dust and Diamonds a safe second by three lengths and Belle of the Hall edging out Turbulent Descent to get the show by a head. Musical Romance will complete the "superfecta" and be a length ahead of Rumor.
Sorry, I didn't get Belle home first, BUT, let's hope 20-year-old Mr. Ortiz does!!!!!! It can
happen!!!
Dirt Mile
Erin Finley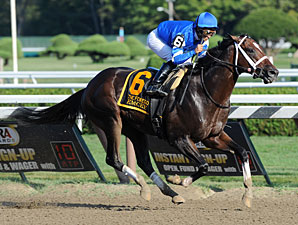 Emcee (pictured) This is a serious, serious horse. He's run two "1" Ragozin numbers this year. Lightly raced but loaded with talented. This is his first time around two turns, but I still like his chances.

Shackleford- I'm one of Shack's biggest fans. He's loaded with personality and tries hard. The mile distance suits his high cruising speed, but my gut tells me he's not the same horse since the Met Mile. Dale tells me he's training great though…
Delegation- I watched this horse's last win at Woodbine- he did it with ease. This is certainly a step up, and he'll have company near the lead. The other question is how he'll handle the dirt- he's never run over it and he's a bit of an unconventional mover. He's my Breeders' Cup longshot this year.
Tom Bellhouse knows Jersey Town has always been one of my favorites. He bested Shackleford in the Kelso, but I'm afraid he's a bounce candidate off such a big effort. Gotta have respect for a horse who's hit the board in 17 of 20 starts though. I love his white face :).
Turf Sprint
Clif Hickok
I just completed handicapping the Belle of the Hall Race and this is so anticlimactic! Albeit, interesting.
Here goes – six and a half furlongs over the downhill course. Oh boy…like a ski slope!
Speed upon speed upon speed. However, this is not five furlongs but six and a half furlongs and that will make all the difference!
California Flag is obvious speed who has won here BUT his last race was in April. He will be on the lead but will falter in mid-stretch…
Now that I have tossed the fastest of the fast horses I'm going to discount all the speed horses. There goes Chosen Miracle, Great Mills, Mizdirection, Next Question, Reneesgotzip, and Global Power.
99% the best closer that has the best trip wins this race!!!
Bridgetown is a very nice horse but not a true closer. He will have trouble traveling wide. Toss!
Camp Victory and Corporate Jungle just seem a cut below.
I'm left with the odd looking group of Tale of a Champion, Upgrade, Great Attack, Unbridled's Note, STARSPANGLEDBANNER (AUS), and Starspangled Heat.
Of the final group I believe the lightly raced Tale of a Champion, Unbridled's Note (Nakatani is hot), Great Attack (Why does Rosario choose him?) and Starspangledbanner (Father/son – trainer/jockey combo back again) look the most likely. Yeah, I'm really thinking a bomb in this race!!
Who plays a horse that was off for two YEARS, comes back and runs two terrible races with a very nice one in between – in Ireland? Well, I guess I do! He also has two Group 1 race wins on his chart, at Ascot and Newmarket of all places!
At the wire it is:
Starspangledbanner (AUS) (pictured) flying on the outside to win the photo by a nose, Unbridled's Note is beaten in the final stride, Great Attack is in third 1 length back and Tale of a Champion in 4th a neck behind Great Attack.
Go cash that Trifecta!!!! As wide open a race as you will see all weekend!
Good Luck.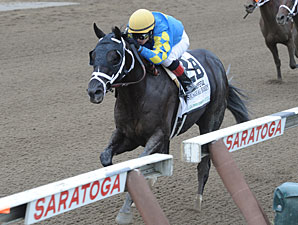 Juvenile:
Shannon Castagnola
1) Shanghai Bobby (pictured)- Good horses have good names. Some may call it happenstance, but in the horse business we're all a little superstitious and I think you set the tone of the course your horse will take when you give them a moniker. I love how this horse came to be named Shanghai Bobby, here's the fun story if you want to find out more.
This colt is undefeated in four starts, including wins in the the Grade I Champagne and Grade II Hopeful under a hand ride by 3 ½ lengths. He's won at four and one half, five and one half furlongs and seven furlongs, a really nice progression.
Shanghai Bobby is one of 12 stakes winners—four of them of graded caliber—representing WinStar Farm stallion Harlan's Holiday in 2012. Harlan's Holiday leads the juvenile sire list by earnings and number of stakes winners with four. He gets a beautiful, well balanced horse.
And last, but not least, this colt will be ridden by my current favorite jockey, Rosie Napravnik. Rosie really came upon the national scene this spring upon winning the 2012 Kentucky Oaks on Believe You Can (ironically named don't you think?) for trainer Larry Jones and owner/breeder, Brereton Jones, aka The Governor. She became the FIRST female jockey to win the Oaks.
At only 24 years of age, she's already notched over 1,000 wins. I'm a big proponent of women in racing and I think Rosie can develop a huge following in the years to come.
She rode at Keeneland during this recent fall meet and we stopped her for a picture with my daughters. Rosie was noticeably tired, and probably a little disappointed in the race outcome, but she stopped, smiled and took the picture. Thanks for the memories you created Rosie and I'll be cheering with everything I have for you!
2) Know More
3) Power Broker
Turf:
Tom Bellhouse
One of the greatest perks to residing in Saratoga Springs year-round, is the opportunity to see some late developing 2-year-olds in the fall, when the track is quiet and the circus has left town.
One such colt is Breeders' Cup Turf favorite Point of Entry. I've always been a bit of a "Dynaformer groupie," so when Robbie Medina (Shug McGaughey's assistant trainer) first showed me this beast one October morning at the Oklahoma track and said "this colt's just going to need a little time to develop," I filed him away into the "Bellhouse vault of useless knowledge" and looked forward to meeting up with him again, somewhere down the road.
1. Point of Entry (pictured)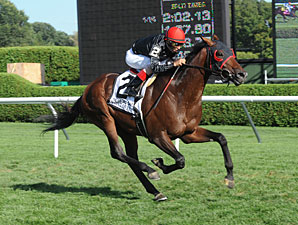 Absolutely love his versatility. Love horses who don't need a setup.POE can rate, stalk, close or be up front.
2. Shareta (Ire)
The thought of considering a filly here makes me crazy, but she just may be the goods.
3. St. Nicholas Abbey (Ire)
Defending champ…didn't handle soft going in the Arc de Triomphe, but that's not a concern in Santa Anita.
4. Optimizer
Quite possibly the most mismanaged horse in America in 2012. Best turf 3-year-old in US. Effort in Kent (G3) was amazing.
5. Treasure Beach (GB)
Been waiting for him to pop through with a great effort in NY this fall. Might move up with "Bellhouse Off" angle.


Sprint:
Jeff Lifson
1. Coil (pictured)
2. Amazombie
3. Capital Account
Mile:
Erin Finley
Full disclosure here. I LOVE the Breeders' Cup Mile. In 2009 I had the biggest parimutuel score of my career at Santa Anita. Superfecta: Goldikova, Courageous Cat, Justenuffhumor, Court Vision.
Never come close to a big score again, but I'm still biased toward the race.
And now onto the 2012 running….


Wise Dan (pictured)- I know most people are going to pick him and I don't normally side with favorites, but I just don't see him losing. I went back and forth between him on Excelebration, and kept WD on top. I don't love the fact the Excelebration wheels back so quickly while flying across the world.
This horse is a class act, and he's posted some very good numbers this year. I've watched his last few races and they were all pretty awesome. He is versatile- capable of adjusting to any pace scenario.
Mr. Commons- He's a cool horse who doesn't win often, but has run some strong numbers this year and is a veteran of this turf course. He's posted three very strong works since his last race. I like his versatile style.
Obviously- He's the speed of the race. I see him leading most of the way before getting tired down the lane. He's hit the board in 10 of 11 starts, and has two wins from three starts over this course. He seems a notch or two below Wise Dan, but could get a piece of it.
Excecelebration (IRE)- A very talented horse- one of Europe's best. He might just be "that good", but I don't love the fact that his last race was on October 20, and he ships across the world to run in a race of this quality off two weeks rest. Word is he got pretty got on the racetrack earlier in the week.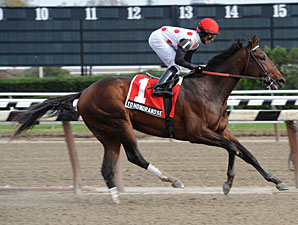 Classic:
Terry Finley
1. To Honor and Serve (pictured)- I picked this horse last year. He's as visually impressive as they come and I think he'll go out with a bang.
2. Pool Play– 7-year-old is a hard knocker. He's going to be a price on the board, but I think he's a live longshot.
3. Flat Out– I loved his effort in the Jockey Club Gold Cup. It seems like he's rounding back into form.
---